Yasmeen Warden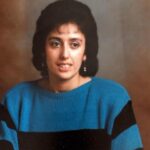 Yasmeen Warden, a long time resident of Williamsburg, passed to a pain free life January 7, 2022, after a battle with cancer.
She was a kind gentle hearted woman who loved her friends and family and anyone she met. She demonstrated great strength and resolve in her life long health struggles.
She is survived by her brother Mark Warden, nieces, nephews, Margery Warden her step-mother, and Aunt Jean Murrow and the Murrow cousins, Doug, Nancy and Cindy (long time residents of Yorktown). Her Mother, Norma Longman and Father, Gary Warden, proceeded her in death and we are confident they are reunited.
Memorial service at the Church of Jesus Christ of Latter-day Saints 902 Denbigh Blvd, Newport News Saturday 11am. Graveside service will follow at Hampton Veterans Memorial Gardens.
Please inform others who may have known her as she had lost her contacts during her sickness.