William Edward Bradley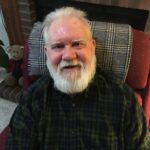 William Edward Bradley, 81, went to be with his Lord and Savior Jesus Christ on April 25, 2021. Bill was born in Forest City, NC on June 25, 1939 to Virle (later Virle McNeill) and Frank Bradley.
Bill graduated from Newport News High School in 1959, and in 1961 graduated from The Technical Institute of the College of William and Mary. He worked as a Senior Electrical Designer for Newport News Shipbuilding, Offshore Power System (Jacksonville, FL), Brown & Root (Houston, TX), John J. McMullen & Associates (Newport News, VA), and Virginia Power (Richmond, VA).
Bill leaves behind his wife of 59 years, Caroline Bradley of York County; son Chris Bradley of York County; daughter Laura Bradley of York County; grandchildren Charles (Vivian) Bradley of Newport News, Mary (Jaci) Callaway of Hawaii, and Lori Bradley of Newport News; great grandchildren Roman and Summer Callaway of Hawaii; sister Shelia (Owen) Stroud of Kinston, NC; sister-in-law Sally Price of Newport News; brother-in-law Bill (Mary) Phillips of Morganton, NC; nephews Bobby Mabe, Bradley Mabe, Brent Mabe, Alfred Hobgood III, Holt (Jayme) Hobgood, all of NC, and Richard (Barbara) Griffith of Newport News; niece Tori (Tonya) Phillips of NC; nephew-in-law Randy McCall of NC; and a number of cousins, great nieces, and great nephews. Daughter Elizabeth Pelt, sister Gayle Mabe, niece Marion McCall, and brother-in-law John Price and Bill's dog Bruno predeceased Bill.
A celebration of Bill's life will be held Saturday, May 1, 2021 at 3pm (visitation will start at 2pm) at Crossroads Community Church, 1420 Lakeside Dr., Yorktown, VA officiated by Pastor Aaron West. A private burial service will be held at Peninsula Memorial Park in Newport News on Monday, May 3.
In lieu of flowers, donations may be made to Virginia Peninsula Food Bank, 2401 Aluminum Ave., Hampton, VA 23661 or hrfoodbank.org.
Amory Funeral Home, 410 Grafton Dr., Yorktown, VA is in charge of arrangements.