William DeLong Lucy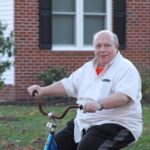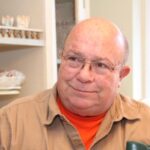 Yorktown, Va. – William DeLong "Bill" Lucy, 78, passed away on Sunday, February 23rd, 2020 to his final retirement in the great Studebaker junkyard in Heaven. He is survived by his wife, Julie Jones Lucy, son Douglas Lucy, daughter Natalie Hall, son-in-law Randy Hall, and grandsons Ethan and Joshua Hall.
Born on July 4th 1941, in Cleveland, Ohio to Philip and Lois Hilton Lucy, he was raised in Norfolk, VA and graduated from Green Cove Springs High School, FL, then attended William and Mary Extension in Norfolk VA. After Farmville, NC native Julie Jones married "that man from big city Norfolk", they made their home in Virginia Beach, VA for 50 years and settled in Yorktown, VA for the past 6 years.
Living in Edgehill, within a few blocks of his daughter Natalie, son-in-law Randy Hall, and two grandsons, Ethan and Joshua, he spent much time with grandsons, giving lessons in construction, pinewood derby car design, painting and how to get away with wearing outlandish neckties to any kind of gathering. Natalie learned a love of art and architecture from him, while his son, Doug, was given the gift of great confidence to "just disassemble it, figure out how it is supposed to work, then fix it".
Even with a large family, Bill looked up to and had great love and care for his Lucy siblings, among them rocket scientists, engineers, teachers and fashion designers, all of whom influenced the complex, wonderfully creative man he grew up to be. He dearly loved his brothers and sisters.
A self-taught handyman, mechanic, engineer, and baker, Bill applied his purpose-filled work ethic and constant search for "how-to-make-it better" to a wide range of professions and hobbies. From newspaper engraving for the Virginian Pilot, submarine and aircraft carrier repair for the Norfolk Naval Shipyard, to sign painting, electronic circuit board design, doughnut frying and cake decorating, antique car restoration and Studebaker Car Club tailgate parties, tow truck service and car repair for his family and friends, he truly lived a life of service to others. The neighborhood will remember his epic holiday displays where creativity and skill made so much fun for trick-or-treaters and holiday passers by. A devout Christian, his church family will remember his helpful nature and his strong voice singing favorite hymns.
After years of soldiering through medical ailments that tried to keep him from outings to his workshop, church, local car shows, and Ollie's, Bill passed away peacefully in the comfort of his home, in the loving care of his wife, Julie.
Memorial service and Celebration of Bill's life lived in Christ's love will be held on Saturday, March 7 at 1pm at St. Luke's United Methodist Church, 300 Ella Taylor Road, Yorktown, VA 23692.
In lieu of flowers, please remember Bill and his limitless generosity with a donation to "Helping The Homeless", c/o Rev. Wendy Roundy, 7745 Kelly Avenue, Gloucester, VA 23061. Arrangements by Amory Funeral Home, Grafton, Va.