William "Bill" Martin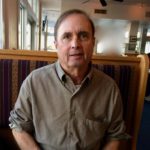 Yorktown, Va. – William "Bill" Martin passed away peacefully and with family on Friday Oct 18, 2019 at the age of 73, following an extended battle with Parkinson's.
Bill is preceded in Heaven by his Mother and Father, Betty and John G. Martin, Jr., and his beloved younger brother, Mark. He is survived by his son Will (Liz), his granddaughters Alex and Virginia, his brothers Bob, Jim, and Doug (Tina), and nieces Alyssa, Jenny, and Kim.
Bill was an active member of the community over his 73 years on the peninsula. An early executive in the Pizza Hut Corporation, Bill spent his later years operating Grafton Driving Range and Mini-golf on the old Martin family farm. There he hosted the D.A.R.E. County Fair for many years. Bill's favorite passions were flying and golf.
Bill also donated time as a Board Member of Mary Immaculate Hospital System, served as the President of his local Kiwanis chapter, and in service positions at Providence United Methodist Church in Yorktown, VA.
In lieu of flowers, donations are encouraged in Bill's name to the Michael J. Fox Foundation for Parkinson's Research https://www.michaeljfox.org/donate
A memorial service will be held on Tuesday, October 22, 2019 at Noon in Providence United Methodist Church. Interment will be private. Arrangements are being handled by Amory Funeral Home, Grafton.