Virginia Elizabeth "Betty" Tinker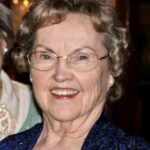 Seaford, Va. – Virginia Elizabeth "Betty" Tinker, 89, passed away on Sunday, July 24, 2022. Betty was born in Tabb, Virginia and was a lifelong York County resident. She worked as a secretary for the office of Dr. Wash for more than 40 years. In her spare time she enjoyed reading and watching movies. She most enjoyed spending time with her large extended family, especially the many children.
She was preceded in death by her husband of 51 years Lawrence Edward "Tink" Tinker, Sr. and her sisters, Anne Emerson and Mary Hudgins and her brothers, Charles, William, Herbert and Conway Hudgins. She is survived by her sisters, Linda Barkley, Brenda Welch and Judy Roundy and her brothers, Edward Hudgins and James Hudgins (Brenda) her step children, Cindy Joiner, Brenda Harkness (Bill), Edward "Larry" Tinker, Jr. (Shelia) and numerous special nieces and nephews.
A special thank you from the family to the aides who helped care for her during her last years.
A funeral service will be held at 11:00 AM on Friday, July 29, 2022 in Amory Funeral Home Chapel. The family will receive friends 30 minutes prior to the service. Burial will follow in Parklawn Memorial Park. Memorials may be made to the charity of your choice. Arrangements are by Amory Funeral Home, Grafton, Va.