Victoria Capid David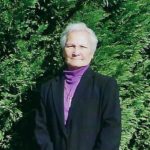 Victoria Capid David passed away peacefully to join her husband, Gregorio David, on May 17, 2019 at the age of 81. Victoria was a native of Pampanga, Philippines. She lived in Yorktown, Virginia for a total of 20 years. She was preceded in death by her husband, Gregorio David; mother, Petronila Dizon Capid; father, Constatino Capid; and brother, Pedro Capid. Survivors include her sons Davidson David SR and Dennis David; daughter, Divina Daley; grandchildren, Riza, Ryan, Jeffrey, Sharon, Davidson JR, Lucia, Davidson III, Davidson IV, Davidson V, Gerald, Julius, Dennelyn, Jhon, Dianne, Kathleen, Joshua, and Rain; great-grandchildren, Raven, Patricia, Prince, Renz, RD, Ryanna, Elijah, Destiny, Nathalie, Sydney, Geyo, Charles, Jandi, Chloe, Lexie, Kelly, and Katelyn.
Victoria was an active member of the Bethel Chapel (LAFB) and the Filipino-American Association. She enjoyed spending time with her family and loved caring for her grandchildren. She had a passion for gardening and loved tending to her rose bushes.
The family will receive friends and family on Thursday, May 23, 2019 in Bethel Chapel. The viewing will start at 1:00 PM, followed by funeral mass at 2:00 PM by Father Robert Bruno. A graveside service will be held at a later date in Mangalit Cemetery, Mabalacat City, Philippines. Please join the family in the reception room following the services. Local arrangements by Amory Funeral Home, Grafton, Virginia.