Violet May Nolen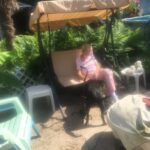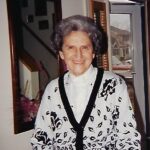 I have enjoyed my life and want to thank some of those that made it possible. First, My Lord and Savior Jesus Christ, next my family and the many friends at Stevens Memorial and my coworkers at Mary Immaculate Hospital where I volunteered. The loved ones that preceded me were my husband Joseph, daughter Pamela "Susie" Reynolds and mother Dora Roop.
I am loaning the world my son Garrett his wife Paula, their children; Joshua and his wife Jen, their children Justus & Elsa of California; Faith and her husband DJ, their children Dyllon & Joseph of Yorktown. Also, my daughter Sharon her husband Ray of West Virginia their children, Derek, Brandon & Danielle and her daughter London. May God watch over them and care for them along with the many friends I have met during my earthly journey.
I have so enjoyed this long and blessed life, and now would like to thank some of those that made it possible, topping the list would be my LORD Savior Jesus Christ who has never left or forsaken me and then my family who have cared for me and loved me to the very end also my church family at Stephens Memorial along with my coworkers from Mary Immaculate Hospital.
I am also grateful for my heavenly Father's creations, especially the majestic mountains where I began this long journey, I can still feel the cool breeze blowing through my hair and the misty mornings. This ole body did not let me go get back there but I began my mornings by sitting on the back porch with a hot cup of coffee and watching HIS majestic Red Bird looking back at me with almost a gleam in his eye. As my day continued I absorbed HIS quietness and enjoyed HIS breeze as I listened to Jay Vernon McGee on my favorite old radio while thinking about days gone by. Later I'd hobble out to set in my swing to feel HIS sun warm my face and watch those pesky humming birds fight and as my son would look over and say "it doesn't get any better than this Mom"
If I could relate my life to a biblical character when I enter that haven of rest (and I mean real rest and peace from these old bodily pains) I would relate myself to King David, because as with him I wasn't perfect by any stretch of the imagination but neither of us lost sight of our LORD and the Lord never lost sight of us.
I pray that whoever reads this will take one moment out of their daily routines and weigh their choices in life, I'll be there waiting for you if you make the right one.
At 94 I have come to the end of my long winding road I have known the joys of the mountain tops and the pot holes of sorrow but always with my maker have made it through Now that the sun has set for me I want no rites in a gloom-filled room.
Why cry for a soul set free? Miss me little but not too long
And not with your head bowed low Remember the love that we once shared Miss me a little but let me go. For this is a journey that we all must take. And each must go alone. It's all a part of the Master's Plan
When tomorrow starts without me, Don't think we're far apart, For every time you think of me I'll always be right here in your heart.