Victor K. "Vic" Swanson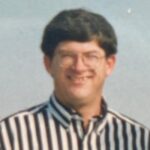 Victor K. "Vic" Swanson died September 19, 2020 in Richmond, Virginia at the age of 65.
Victor is mourned by his three sons Chris Swanson (Tara) of Redkey, IN, Eric Swanson (Amber) of Richmond, VA, and Scott Swanson (Kristen) of Portage, IN; his four siblings, Daniel Swanson (Sarah) of Hull, MA, Jeffrey Swanson (Katie) of Seaford, VA, Katrina Meade (Douglas) of Seaford, VA, and Lottie Grimes (David) of Boulder, CO; as well as his four grandsons, Dylan, Christopher, McCoy, and Oliver. He is preceded in death by his parents Sherrell D. Swanson and Sylvia K. Swanson (née Karle) of Seaford, VA.
Victor was born on October 20, 1954 in Grove City, PA to Sherrell and Sylvia. During his time in East Aurora, NY and later Hudson, OH, he was a decorated high school athlete who also enjoyed skiing. He attended Purdue University to study engineering and married Maureen May in 1974. He began work at US Steel in Gary, IN, where his three sons were born. After finishing his degree in Electrical Engineering, he continued work in his private business, then later as a union master electrician in Niles, MI, before retiring. His children remember him as a supportive, knowledgeable parent who encouraged them to follow their dreams and be meticulous about their work.
Victor was a lifelong learner, voracious reader, and was seemingly knowledgeable about any subject that was discussed. Topics that were especially interesting to Victor, include science-fiction, the wonders of the world, and material that challenged traditional ways of thinking. He continued playing baseball, softball, and skiing into his adult life, and passed on these interests. He also took up golfing with his sons and later won the C Flight division in the Niles City Golf Tournament. He was a blues guitarist and enjoyed attending local live concerts. Late in life, he was known to attend family events and relax with a smile on his face, while asking about the talents and hobbies of his grandchildren. His family will miss him and his all too familiar laugh that punctuated many conversations.
The family will be holding a private "Celebration of Life" but appreciate your prayers, thoughts, calls, and cards during this time of remembrance.