Teresa K. Elder Plessinger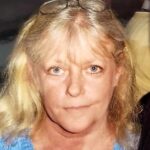 Teresa K. Elder Plessinger, 67, of Grafton Va. passed away on May 31, 2021, at Mary Immaculate Hospital after complications from a stroke and cancer. Teresa was born on May 26 1954 in Newport News, VA. Teresa worked in the medical field and within the York County School Division before retiring. She enjoyed gardening, photography, and a good discussion with friends and loved ones over a cup of coffee.
Teresa was preceded in death by her parents, Gerald and Eleanor Elder; her husband, Stephen Plessinger, and her brother, Daniel Elder.
She is survived by her son, Robert Plessinger (Christi); her son, Michael Plessinger (Christin and Lindsey); her boyfriend Robert Ramsey; and her beloved grandchildren, Briar Anne, Christopher, Madi, Colby and Reagan.
Services will be private. Arrangements by Amory Funeral Home, Grafton, Va.