Susan Renee Wolford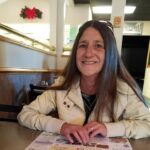 Susan Renee Wolford, 59, of Hayes, Virginia, passed away unexpectedly at her home on May 06, 2023.
Susan was born on December 11th to Joseph and Sue Durham of Yorktown Virginia.
Susan enjoyed spending holidays, birthdays and other occasions making memories with her many loved ones.
Susan was preceded in death by her father Joseph Durham Jr, Grandparents Nora Taylor, Frank Taylor, Margret Durham, Joseph Durham Sr.. She is survived by her husband Mark Wolford, mother Sue Durham, sister Pam Laird (Mike Laird), brother Mike Durham, 3 daughters Starr Pullman (Tony Pullman), Deanna Hall, Amber Huggins (Joshua Huggins), 3 sons Daniel Pratt, Keith Wolford, Steven Wolford (Heather Westergard), 14 grandchildren Cheyenne Pullman, Anthony Pullman, Demetri Pullman, Kayleigh Pullman, Austin Hall, Kimberly Hall, Kymberly Huggins, Jeramiah Huggins, Briana Huggins, KJ Wolford, Gabriel Wolford, Donovan Wolford, Paige Wolford, Skylar Wolford, 2 great grandchildren Kai Honaker, August Courson, and numerous nieces, nephews, cousins, aunts, uncles, and in-laws.
The family will receive guest to celebrate her life on June 3rd, 2023 from 2-4 at 9447 Maryus Rd. Hayes, VA.
In lieu of flowers, if you wish to make a contribution please contact Starr at 804-832-8899 for more information on how to donate. Arrangements by Amory Funeral Home, Grafton, Va.