Stephen Roy Harmeson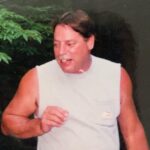 Hampton, Va. – Stephen Roy Harmeson, 65, passed away on Wednesday, December 1, 2021.
Stephen was born in Dayton, Ohio and a peninsula resident since 1985. He was employed by the Newport News Shipyard since 1985. He enjoyed gardening, music, playing cards, darts and riding his Harley.
He is survived by his daughter Michelle Chrismon and her husband Benjamin of Newport News, Va. his sisters, Nancy Gallant and her husband Rick of Southbend, IN. and Sue Nickoson of Cincinnati, OH. and a brother Tim Harmeson.
He was preceded in death by his the love of his life his wife Judy Harmeson and parents Mary Harmeson and Roy Harmeson, as well as his sister, Peggy Harmeson.
Memorial Service will be held at 6:00 PM on Friday December 10, 2021 in Amory Funeral Home Chapel.
In lieu of flowers a donation to the American cancer society. Arrangements are by Amory Funeral Home, Grafton, Va.