Stephen M. Cipriano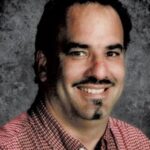 Newport News, Va. – Stephen M. Cipriano was born in the last seconds of 1959 in El Paso, TX. As part of a large military family, Stephen traveled extensively. While at Ft. Monroe, VA, he graduated from Phoebus High School and obtained bachelor's degrees at Christopher Newport College. From there he went on to his big dream of living and working in New York City. While in NYC, his work took him from tea with Jaqueline Kennedy Onassis in her Manhattan apartment to working with Stephen King as a client while in publishing. NYC gave him the opportunity to enjoy his other passions – art, music, and theater. He was able to meet some of his favorites – Joni Mitchell, Judy Collins, Barbara Streisand, Patti LuPone, and Betty Buckley.
As anyone who knew Stephen learned, he loved literature and books. He collected thousands of books, reading the classics in the original language – to include being self-taught in Russian.
With his return to Virginia, he found his real gift of working with adults and children with intellectual and developmental disabilities – including those who are nonverbal and/or with serious mobility issues. Stephen treated each person with respect, kindness, and dignity, bringing out and celebrating the best of each person. The individuals and families that he worked with at York County and Newport New Schools, Eggleston, and Versability, were quick to praise "Mr. C" for his compassion and abilities.
His sudden death on August 4, 2021, of heart failure, left a special hole in his family, neighbors and friends. He was preceded in death by his father, Alexander Cipriano in April 2021. He leaves behind his family: mother – Anne Cipriano, brothers – Eric Cipriano and Marc Cipriano (along with Marty Pope), sister – Lisa Cipriano (with Samantha and Sarah Smiley), his sister Joy Cipriano, brother-in-law and friend Jeff Kaye, along with their sons Aaron and Joshua Kaye. Uncle Stephen was "the other parent" to Aaron and Josh who loved him dearly. Stephen was a kind, generous and faith-filled person. His family, many neighbors and friends will miss him.
A funeral mass will be held at Mount Carmel Church at 100 Harpersville Road, Newport News on Thursday, August 12, 2021, at 11:00 am, with inurnment in the future.
In lieu of flowers we would simply ask that, like Stephen, you take every opportunity to do an act of kindness for others – neighbors, friends, family, and strangers. And when you hear a Joni Mitchell or Barbara Streisand song, send a smile to Stephen.