Stephen Dwayne Burgess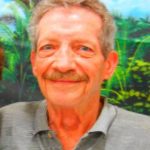 Yorktown, Va. – Stephen Dwayne Burgess, 73, peacefully passed away on Monday, Sept. 2, 2019 at Riverside Regional Medical Center. Steve was born in Rocky Mount, North Carolina on November 26, 1945 and was a graduate of Benvenue High School. Steve resided in Yorktown, VA for more than 40 years with his wife Wanda. Before his retirement, he was self-employed working construction and exterminating.
Steve was an avid sports fan where he followed the Dallas Cowboys, NASCAR and Dale Earnhardt (Senior and Jr.), and the Tar Heels of UNC. Steve also loved to BBQ and could cook a mean pork shoulder Carolina style. He loved to bowl and was a long time Sunday morning bowler. Steve was also the #1 fan of his grandchildren in whatever activity they were involved in, baseball, softball, football, basketball, piano recitals and school choirs, it didn't matter, if he could, he was there.
Steve is preceded in death by his parents Leroy Dean and Hallie Mae Burgess. He is survived by his loving wife of 33 years, Wanda K. Burgess, two sisters, Linda Hicks and her husband Melvin, and Cindy Davis of Rocky Mount, NC; daughters Susan Fogleman (Michael) and Karen Gibson (Richard "JR"); grandchildren Sydney, Trey, and Nikki; nieces Julie, Allison, Christi and Brandy, and nephew Melvin Jr.; numerous grand nieces and nephews and extended family; and lifelong friend Steve Wozny.
The family will receive friends Sunday Sept. 8 from 2pm to 4pm at Amory Funeral Home, 410 Grafton Dr., Yorktown, VA. A graveside service will follow at a later date in Rocky Mount, NC.