Shirley Anne Ripley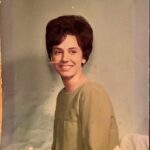 Shirley Anne Ripley, 75, a lifelong resident of Newport News, VA went to be with her Lord on Saturday morning, July 29, 2023.
Shirley was born on June 20, 1948 to John A. and Elsie M. Charleston. She graduated from Ferguson High School and from Cosmetology School. She owned Shirley's Beauty Shop and was a hairdresser for over 50 years until she retired due to her health. She also worked at Busch Gardens for over 25 years in the New France Pottery Shop. Shirley loved her Lord and going to church. She was a faithful, active Christian since she was 8 years old and was most recently a member at Olivet Christian Church. Due to Covid and her health issues, she was unable to attend the last 3 years. She loved spending time with her family especially her 2 children and their families. Her grandchildren were her pride and joy. She was excitedly anticipating her first great grandson being born in October 2023. Shirley loved her friends. She knew and loved everyone. She never met a stranger and was always willing to help anyone in need. She had a servant's heart and enjoyed loving and caring for others.
Shirley was preceded in death by her parents, John and Elsie Charleston, and her second husband, Charles Ripley. Those left to cherish her memory are her son, Gregg "Scooter" Breisch and her daughter-in-law, Dori of Creswell, NC; her daughter, Gina Breisch of Seaford, VA, her 6 grandchildren, Amara, Abby, Josh, Gary, Zeke, and Lyla; her great grandson coming in October; her siblings, Sheron (Dennis) Lumpkin, Larry (Kathy) Charleston, and Alva (Bob) Roman; several nieces and nephews and the father of her children, Gregg Breisch, Sr. She also leaves behind her best furry friend, Blanca.
The family wishes to thank Medi-Hospice of VA Beach for all their help and care and a special thanks to her caregiver and friend, Chantal Smith. You loved her like your own mother and we are forever grateful.
Donations in honor or memory can be made to Christian Acres Service Camp, Bluefield, WV and Heritage Humane Society, Williamsburg, VA. She loved church camp and the impact on kids and loved animals especially the place where she adopted her sweet Blanca.
Services are Sunday, August 6, 2023 at 3 pm at Amory Funeral Home. Her son, Scooter, is officiating the celebration of life service.