Sheryal "Sherry" Laraine Gaines Moore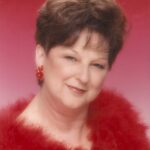 Yorktown – Sheryal "Sherry" Laraine Gaines Moore walked the stairs of Heaven to join her family and the Lord on Thursday, January 5, 2023.
Mrs. Moore was employed with the Naval Weapons Station for 30 years, until her retirement from civil service in 2003. She was a former member of Emanuel Baptist Temple and worked as the churches first secretary.
Sherry was a lifelong resident of Yorktown, VA. She graduated from York High School in 1963. Being the true Falcon she was, elected as superlative in her class for being "Most School Spirited". Sherry attended all of her class reunions and ran every single one.
Sherry, known as Mimi by all her family, grandchildren, and great grandchildren, enjoyed traveling, sewing and watching Dale Earnhart, but most of all enjoyed being with her children and grand children.
Sherry is survived by her loving husband of 56 years, Jim Moore; her brother Bobby Gaines; her 2 daughters, Nancy Sargent and Becky Coberly; her grandchildren, James Christopher, William Lee, Cody James, Haleigh Laraine (Devon), and Nikolus Tyler; and 7 great grandchildren, with one more on the way. She was preceded in death by her parents, Jackie and Harvey Gaines and her older brother Tommy Gaines.
The family would like to thank Sentara Heart Hospital for all the care given to Sherry during her illness.
A funeral service will be held in the chapel of Amory Funeral Home, Grafton, on Wednesday, January 11, 2023 at 11:00AM. The family will receive friends 1 hour prior to service. Burial will follow in Providence United Methodist Church Cemetery.