Sharon Owens Nuckles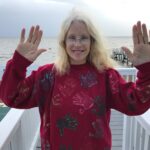 Hayes, Va. – Sharon Owens Nuckles
"Shay" moved on peacefully on Friday March 19, 2021. Shay maintained a lifelong pride of being a native of North Carolina, having been born there on May 23, 1949.
Shay was the mother of a son David, and a daughter Susan, both currently residing in Florida. She had numerous grandchildren, and remained lovingly connected to her granddaughter Ashley and her great grandchildren, all of whom gave her a big grin and a sparkle in her eyes. Shay loved her animals, giving 9 dogs and 3 cats a life of great affection. She fed birds and squirrels and any other critters lucky enough to cross her path. Shay was a driven and determined soul. She graduated from Hampton High School and Christopher Newport College. She successfully served as Director of Sales and General Manager for a variety of hotels in Williamsburg and Hampton. She was an avid gardener and genealogist. She loved traveling and visited many locales throughout England, Scotland, Whales, Mexico and many states throughout the US. She could bait her own hook and clean her own fish. She was truly a renaissance woman.
As the years passed, family members Kevin and Debbie, Wayne and Kim, and nieces Stephanie, Heather and Erica and their respective spouses became a source of love and support. Her husband of 40 years Craig, will miss and love her until the end of time.
A celebration of life featuring music by her beloved Bruce Springsteen, will be held at the family home at a later date.
In lieu of flowers, please make a donation to your local NO-Kill animal shelter or the Alzheimer's Association. Local arrangements by Amory Funeral Home, Grafton, VA.