Sara Phelps Mitchell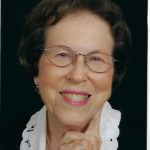 Yorktown, Va. – Sara Phelps Mitchell, 98, passed away on Wednesday, September 11, 2019. She is survived by three children, William Mitchell, Nancy Galliher and her husband Kevin and Paige Mitchell; 7 grandchildren and 5 great-grandchildren.
Mom had a smile that would light up any room. Always the first to say a kind word & give a compliment. She was a loving & faithful daughter, wife, mother, friend and Christian. In her young years she worked at NNSY & NN School System. She was a volunteer at Bargain Box for 17 years. She was a member of a christian choir that visited and sang in nursing homes. She called it her Sing-Sing group. She was a devoted Mother. I'm so proud of her and the life lessons I learned thru how she lived her life. She lead by example I love & admire her and she was loved by many.
It wasn't until I had children of my own that I realized how much my mother did everyday. Not just the cleaning and cooking but how she listened and cared, how she always had time for me, never put pressure on me to be something I wasn't, how she shaped the core values in my life. She always had a country expression for everything "don't put off til tomorrow what you can do today". She always had a dessert at every meal. My dad had a great sense of humor and believed as long as you have good health you have everything. My wife was the love of my life. God gave me a good start in life with great parents and a wonderful wife. I miss you all so much goodbye mom, I love you.
The family will remain after graveside service to thank those who are here today