Sandra Byrd Call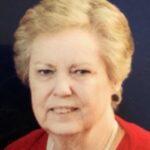 Newport News, Va. – Sandra Byrd Call passed away on Thursday, March 12, 2020. She was employed by the City of Newport News for 35 years. She was a member of the Transatlantic Bridges and Parents Association where she enjoyed her loving British friends. She is preceded in death by her parents Richard and Barbara Byrd and sister Audrey Fulcher.
Sandie is survived by her husband Fred and her two loving children Mike Call and wife Heather, Jennifer Archer and husband Corey. The loves of her life were her grandchildren, Travis Archer and Ashlyn Call; her brother Barry Byrd and wife Vicki, her sister in-law Susan Rumsey and husband Kevin, her niece Erica Jones, her nephews Bryan Byrd, Jason Snow, Shaun Snow. Her "adoptive daughter" Tara Merkel and her best friend in the world Pat Forbes.
In lieu of flowers the family is requesting donations be made in Sandie's name to St. Jude Children's Research Hospital, P.O. Box 50, Memphis, TN 38101-9922 or Cystic Fibrosis Foundation, 1500 Forrest Ave. Suite 124, Richmond, Va. 23229
A graveside service will be held at 11:00 AM on Monday, March 16, 2020 in Hampton Memorial Gardens, Hampton, Va. Arrangements by Amory Funeral Home, Grafton, Va.