Salvatore Julius Bavuso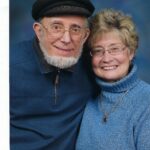 Yorktown, Va. – Salvatore Julius Bavuso went to be with his Lord on December 1, 2021.
He is preceded by his mother and father, Assunta and Giuliano Bavuso, and his siblings, Domenica, Matteo, Catherine, and Carmella.
He is survived by Margo, his spouse of 48 years, his children, Salvatore "Torry", Anthony, and Jennifer, their spouses, Katie, Elyse, and Eric and his grandchildren Matthew, Jacob, Elianna, Emma, Connor, and Wyatt.
Born in Brooklyn, New York, he moved to Florida in his teens with his parents. After attending the Florida State Engineering program, he was recruited by NASA and moved to Tidewater Virginia to work at the Langley Research Center in 1964. He was a pioneer in the development of computer reliability analysis, and worked on the Viking Mars Lander. Just before retiring, he and Margo founded the Little Log Cabin Learning Center in Yorktown in 1994. "Mr Sal" was a constant support repairing the school, helping with chores, and driving the tractor for the annual Hayride. As a scout leader for troop 201, he helped dozens of boys with Eagle Scout projects and supervised at scout camp. A gentle soul, he loved adventuring with his children, sailing with his family in the Chesapeake Bay, playing folk songs on the guitar, and discussing scientific discoveries. A visitation will be held at Amory Funeral Home on Saturday, December 4th from 2-4pm, and a graveside service will be held at Parklawn Memorial Park on Sunday, December 5th at 2pm.
In lieu of flowers memorials may be made to St. Mark Lutheran Church, 118 Old York Hampton Highway, Yorktown, Va. 23692.
Arrangements by Amory Funeral Home, Grafton, Va.