Sally Helen Hanson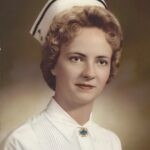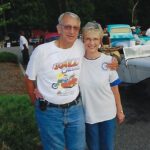 Beloved wife, mother, and grandmother Sally Helen Hanson of Yorktown, VA, passed on Thursday, August 12, 2021. She was surrounded by her children and grandchildren on that final day.
She was born on March 31, 1940, in Moline, Illinois to George Leffert Murrison and Leila Helen Carolyn Gimm.
Sally graduated from Moline Public Hospital with a nursing degree in 1961. Sally married the love of her life Larry Hanson on November 11, 1961, and they would have celebrated their 60th anniversary this year.
Sally and Larry enjoyed living in the various places where Larry's job took them. Their family was stationed in Panama on Fort Amador for five years, Riyadh, Saudi Arabia for two years, Heidelberg, Germany for five years, and many posts in the United States.
She loved drawing, painting, decorating, and collecting items to decorate their house for the different seasons.
Sally and Larry were avid car collectors and members of the Classic Cruisers Car Club in Newport News. Sally mostly enjoyed their 1965 Mustang and 1963 police car.
She is survived by her children Holly Mansueti, Matthew Hanson, and Heidi Freeman; grandchildren Hunter Hidrobo, Elizabeth Hidrobo, and twins Corinne and Natalie Hidrobo; step-grandchildren Rachel Freeman and Mark Freeman.
There will be a Celebration of Life on Wednesday, August 25, at 6 PM, at Armory Funeral Home, 410 Grafton Drive, Grafton, Va. The family will receive friends one hour prior to the service. She will be laid to rest at Peninsula Memorial Park. Memorial donations can be sent to Alzheimer's Association.