Ruby Mae Diehl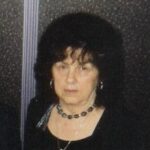 Mrs. Ruby Mae Diehl, of Grafton, VA, passed away peacefully in her home on November 16, 2020 at the age of 87 after a courageous battle with cancer.
Ruby was born on February 18, 1933 to parents Della Mae and Thomas M. Richardson. She was a life long resident of York County, Virginia and attended Poquoson High School. She was the matriarch of a very large extended family that included five children, nine grandchildren, eleven great grandchildren and two great great grandchildren.
In 1950 Ruby married the love of her life, Richard "Dick" E. Diehl. They had five children together including two sons, Richard Jr. "Rick" and Ronald "Ronnie" Diehl and three daughters, Judy, Denise "Bobbie" and Jody.
Ruby was a dedicated family woman who spent most of her time caring for others. She enjoyed camping, travelling and being outdoors. Ruby loved to cook, crochet, read books and listen to country music. She would often play piano and sing for her children and grandchildren. Most of all she enjoyed being with her family.
Ruby had many roles but she was best known to be a caregiver. She raised many children and grandchildren. She dedicated her life to her husband's care after he was diagnosed with Alzheimer's disease. In 2008 she adopted a white West Highland Terrier puppy she named Dickles who became her best friend and companion.
Ruby was preceded in death by her loving husband, Richard "Dick" E. Diehl, Grandson: Richard A. Diehl "Little Ricky", Daughter: Judy Diehl, Two brothers: Norman and Randy Richardson, Son in Law: Frankie Cawley and her loving parents: Della Mae and Thomas M. Richardson.
Ruby will be loved and missed by surviving children, Jody Diehl; Paul, Denise Funk; Dusty, Ronald "Ronnie" Diehl; Sharon, and Richard "Rick" Diehl; Fran. Son in law: Rick. Her loving West Highland Terrier, Dickles. Grandchildren, Shawn Gill; Melissa, Raun Diehl; Kat, Savanna Diehl; Matt, Heather Frazier; Chris, Katherine Kontra, Julie Diehl, Misty Futrell; Eric, and Dena Idrizaj; Shkodran. Great Grandchildren, Alex, Amber, Sara, Jasper "Jelly", Dallas, Erica, Todd, Zoey, Kayson, Christopher and Nicolas and two loving great great granddaughters.
In Lieu of flowers, donations to The Alzheimer's Association of America or The American Cancer Society would be greatly appreciated.