Roy Lee Green, Jr.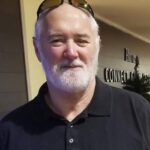 Hampton, Va. – Roy Lee Green, Jr., 69 passed away on Friday, December 23, 2022.
Roy was a native of Fredrick, Maryland and a Hampton resident since 1976. He worked for Moffitt Restoration in Hampton for over 30 years and was active volunteer with Boy Scouts of America. He loved his family and enjoyed camping, bowling and enjoyed watching his grandchildren play sports.
He was preceded in death by his parents Roy Lee Green, Sr. and Helen Louise Moore and her husband Harley Moore. He is survived by his wife of nearly fifty years Pamela Jane Green and his children, Roy Lee Green, III (Ashley), P. Amy Higgs (Jerry) and Samantha Ryder (Jacob); 9 grandchildren, Brittany Houdashelt (Ryan), John Higgs, LeeAnn Higgs, Roy Green, IV, Cole Ryder, Savannah Green, Amiyah, Jeremiah and Chase; 1 great grandson Sean Houdashelt; a sister, Pam Price, nieces Angie and Tiffany Price.
A memorial service will be held at a later date in Amory Funeral Home Chapel.