John Robert "Bobby" Soles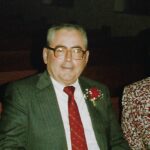 Yorktown, Va. – John R. Soles passed away on Thursday, December 24th, 2020. "Bobby" as he was known by all, was a lifelong resident of York County. He was born on May 28th, 1937.
He was a graduate of York High School and began a 40 year career as an insurance salesman. On September 2, 1957 he and Donna Valentine were married. Bobby had two main loves, his wife Donna and the Yorktown Beach.
He was especially proud to grow up in Yorktown. He could tell many stories of being a young boy on the beach and renting boats at the family's boat rental business.
Mr. Soles was a member of the Yorktown Masonic Lodge #205 and Crooks Memorial United Methodist Church.
Bobby was predeceased by his parents John V. and Anna Belle R. Soles, his brother Boyd (Teeny) and sister-in-law Myrtle. He is survived by his wife Donna V. Soles and their two children, son, John R. Soles, Jr. and his wife LuAnne and daughter, JoAnna (Jody) S. Bauer and her husband Gregory, all of Yorktown; two grandsons, J. Ryan Soles and his wife Lindsey and Jacob L. Soles and his wife Jesse; two great-granddaughters, Lillian H. Soles and Hadley R. Soles.
The family would like to thank the caregivers on the Piedmont Memory Care Unit at The Gardens at Warwick Forest for their kindness and love.
Services will be private. Should friends desire, memorial donations may be made to the Alzheimer's Association 358 McLaws Circle Williamsburg, VA 23185 or a charity of your choice.