Robert Lee Holt, Sr.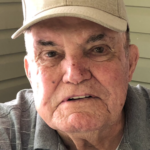 Robert Lee Holt, Sr, departed this life on Wednesday, February 12, 2020, surrounded by family and friends, after being blessed to live for 87 years.
He was a loving husband, father, father in law, grandfather and great grandfather. He was predeceased by his loving wife, Rosalyn Ann Holt, of 55 years.
He leaves behind, 2 sons, Robert Holt Jr (Lynn) & Clyde Holt; two granddaughters, Beverly Potter (Bill) & Tracy Stippel (David Craft); and three great grandsons, Christopher Potter, Walker & Pearce Stippel. He has numerous cousins scattered across the Carolinas, including one particular cousin, in South Carolina, who called him several times daily to check on him.
Throughout his life, he enjoyed bird watching, maintaining his lawn, traveling, playing cards, watching old westerns and spending time with family – especially on Friday night pizza nights.
He was employed by York County and retired in 1995 after 30 years, as a heavy equipment operator. Additionally, he was a long standing member of Hornsbyville Baptist Church.
The family will receive friends from 7-8:30pm, Friday, February 14th at Amory Funeral Home, Grafton. A funeral service will be held at 1pm, Saturday, February 15th at Hornsbyville Baptist Church, Yorktown, with Pastor Ron Holland & Pastor Charles Jones officiating. Interment will follow at Peninsula Memorial Park, Newport News.
In lieu of flowers, memorial donations may be made to Hornsbyville Baptist Church, PO Box 1147, Grafton, VA 23692. Arrangements by Amory Funeral Home, Grafton.