Robert Douglas Davidson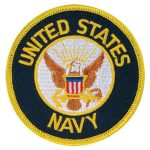 Yorktown, Va. – Robert Douglas Davidson, 93, passed away on Friday, August 16, 2019. Robert was a native of Danville, Virginia and Yorktown resident for many years. He was a WWII veteran and served his country with pride. He worked for NARF as a Quality Insurance Inspector and retired after 32 years of service. He was a long-standing member of Crooks Memorial United Methodist Church.
He was preceded in death by his wife of 45 years Linda and a grandson Mark Davidson, Jr. and his sister Dorothy and his brothers Bill and Ernst. He is survived by his daughters, Diane Irwin of New Mexico and Donna Stephens (Mike) of Knoxville, TN and a son, Mark Davidson of Apopka, FL. He is also survived by his grandchildren Justin, Cassandra, Destry, Noelle, Olivia and Cameron (Nicole) as well as 8 great grandchildren.
A funeral service will be held at 11:00 AM on Wednesday, August 21, 2019 in Amory Funeral Home Chapel. Interment will follow in Peninsula Memorial Park. The family will receive friends on Tuesday from 6:00 to 7:00 PM at the funeral home. Memorials may be made to Crooks Memorial United Methodist Church, Cook Road, Yorktown, Va. 23692.