Robert (Bobby) Wayne Belvin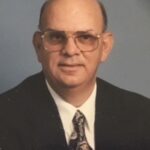 Robert (Bobby) Wayne Belvin (82) went to be with his Lord and Savior on Friday, August 11, 2023 after a long battle with cancer.
A lifetime native of York County, raised in Dandy, VA., he was the son of the late Enoch and Virginia (Wheeler) Belvin. Predeceased in death by his second wife, Martha Callahan Belvin, his brother, John S. Belvin and sister-in-law, Sue Belvin, and grandson Taylor Reviea. Bobby leaves behind to cherish his memory his loving wife, Patty Ann, his siblings, Richard Belvin, Gloucester, VA, and Barbara Belvin Firth (Claude), Poquoson, VA. His children, Robert W. Belvin Jr. (Maribeth), Clarksville, TN; Frances Belvin Ryan (Ashby), Hampton, VA., stepchildren, Pamela Joy Reviea (Arthur), Yorktown, VA, David R. Mummert (Teresa), Yorktown, VA. Grandchildren, Garrett Belvin (Kelly), Clarksville, TN, Elizabeth Belvin Quinton (Morgan), Clarksville, TN, Hunter Belvin (Margaux) Murfreesboro, TN, Maria Mummert, Elton, Maryland, Ana Mummert, Johnathan Mummert, Sarai Reviea, Neil Ryan (Camryn), Roanoke, VA, and Ashley Ryan. Great-Grandchildren; Layton, Cooper, and Hallie. And a very special Aunt Trudy plus a family of nieces, nephews and cousins.
Bobby worked at the Newport News Shipyard as a carpenter after graduation from York High School, Class of 1960. Later, he worked Civil Service at Fort Eustis, VA., Naval Air Station, Norfolk and Naval Weapons Station, Yorktown.
Bobby spent several years as a York County Volunteer Fireman. He told many stories of his time with the Fire Dept. He especially talked about the 1955 Dodge Fire Truck he drove to emergency calls and the work required to do his job.
He retired early from Civil Service while stationed at the Naval Weapons Station on disability from an injury in 1979. He became Mr. Mom helping raise his daughter, Frances. At this same time, He started Belvin Woodcraft making children's toys and furniture as well as nautical and seasonal crafts in his workshop at home. This was his passion for over 40 years. Making his own patterns for doll cradles, rocking chairs and lots of trucks and cars, he would spend his time on new designs and restocking his creations. Lots of craft shows were on his agenda for many years until 2020 and all activity came to an end because of COVID-19.
Bobby was a member of the Colonial Virginia Model A Ford Club, Williamsburg, VA. He enjoyed his Model A, his friends and fellowship with the club, the eat & meet monthly tours and the yearly National tours that took him to places in the USA he had never been before. Bobby loved to look at all cars antique, classic and brand-new ones.
Bobby was a long-time member of Crooks Memorial United Methodist Church. In his younger days, he was always available to usher at the early service. As part of the United Methodist Men, there were special times cooking the Brunswick Stew in the large iron kettle for a church festivals. As part of the property committee, he was the carpenter fixer upper for many needs at the church.
Special Thank you to Affinity Hospice Care nurses and staff for exceptional care during the last several months. Their dedication and support have been beyond excellent. Special Thank you to all our family and friends who helped and supported us with your prayers, your love and your time. It was most appreciated.
In lieu of flowers, donations can be made to Crooks Memorial United Methodist Church, 204 Cook Road, Yorktown, Va. 23690 or York County Fire & Rescue, P.O. Box 532, Yorktown, Va. 23690 or Model A Ford Foundation, Inc, P.O. Box 28, Peotone, Illinois, 60468 or a charity of your choice.
Service and visitation will be at his church, Crooks Memorial United Methodist Church, 204 Cook Road, Yorktown, VA. Visitation will be Tuesday, Aug 15th, 6-7 PM. Services will be Wednesday, Aug 16th at 11AM with graveside service to follow at Peninsula Memorial Park. Reception will follow at the church for family and friends after services.