Robert "Bob" Charles Truston, Sr.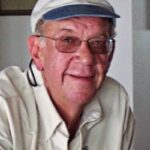 Yorktown, Va. – On March 3rd Bob cast off all lines and headed to another shore where he rejoined the many family members and friends that had been calling him.
Bob was predeceased by his parents, George and Bella Truston. He leaves behind his wife Becky; daughter Barbara Lytton and her husband Keith; son Neal Truston; son Rob Truston and his fiancée Raina Trainum; brothers Tom Truston and his wife Vikki; Doug Truston and his wife Pam; and sister Ruth Ridenhour and her husband Jeff. Bob is also survived by grandsons Ryan and Kent Hebert and granddaughter Taylor Truston; nieces Christina Barnum (Nick) and their children Mason and Leah, and Jessica Ridenhour and son Zaydan. From Becky's side, many other nieces, nephews, great nieces and nephews will miss their Uncle Bob as will his in-laws, Mel and Lei Collins, Kathy Collins, Tommy Collins and his partner Patty Andrews, and Sue and Tim Shekoski. He is also survived by the mother of his children, Mary Ann Matthews.
Many dear family members, friends, neighbors, and co-workers supported us from near and far. We have enjoyed good times with them and when we needed it, they propped us up with their visits, favors, love, and concern. Bob was also surrounded by his "harem of caregivers": Donna Scott, Brenda Johnson, Sandra Driver, Taylor Weddle, Meredith Kotre and Riverside Hospice nurses Heather and Dannielle. With their friendship and help he was able to remain in his beloved home until he was ready to go.
Precious few become true masters of their craft. Bob Truston was not only a master of ocean installations, he was also a legendary resource to ocean project planners, engineers, and deck crews alike. Perhaps Bob was drawn to the field by his innate sense of adventure, working salvage jobs with his father, the cosmic force, or pure serendipity. Regardless, the entire community benefited from Bob's 40+ years leading challenging projects on and underwater, including hurricane survival moorings, subsea cable installations, at-sea construction with complex crane lifts, and so much more.
In his early professional years, Bob worked for some of the world's most successful offshore contractors, learning all along the way. After an extended stint in the Middle East, Bob returned stateside and was progressively entrusted with more responsibility and more challenging projects. The US Navy took a keen interest in his skills and continuously awarded contracts to whichever company was smart enough to keep Bob on their payroll. His name became was synonymous with plate anchor moorings as he upgraded virtually every US Navy fleet mooring from the old conventional systems. The pinnacle of his non-self-employed career may have been serving as mooring master for the US Navy's participation in International Naval Review 2000 and 4th of July celebration in New York Harbor. Bob masterfully orchestrated the mid-harbor berthing of three large warships, including the aircraft carrier JOHN F. KENNEDY, with applause and gratitude from harbor pilots, tug captains, and US Navy commanding officers.
Shortly after the events of 9/11, Bob became one of the founding members of Oceanetics (formerly Truston Technologies). With Bob's leadership, the company has become one of the US Navy's most trusted installers of hurricane survival moorings and the largest provider of floating port security systems. Bob's continued passion led to adventures serving clients in five continents and on the open sea. Every employee continues to benefit from his vision and accomplishments.
Bob was truly special—immensely skilled, innovative without limits, and thoughtful of everyone and everything he touched. His skill made the hardest jobs look easy; his innovation solved every puzzle; his thoughtfulness showed how much he cared about his work, his clients, and his people. In more than 40 years in the field, including in some of the most hazardous conditions, there was never a serious injury while Bob was onsite. Every job was finished, and all went home safe. Everyone fortunate enough to work with Bob gained something useful, and Bob left this world better than he found it.When temperatures are up and Covid is down, we will celebrate Bob in a way he would want us to. Until then, raise a glass and toast a life well lived. If you want to honor Bob in some way consider donations to York County Food Closet, 300 Ella Taylor Rd., Yorktown, VA 23692 or your local food bank. Bob always wanted to make sure that people had enough good food and drink.