Rita M. Irby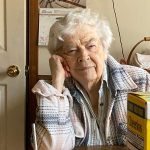 Yorktown, Va. – Rita Manley Irby. 98, went to meet the Lord on July 16, 2021 from her home in York County.
Rita was born in Cape Charles, VA on June 30, 1923. She graduated from Cape Charles High School at sixteen and went back to study bookkeeping, which became her career. She moved to Hampton, VA, in 1939 to take a job at The Newport News Shipbuilding and Dry Dock Company.
She met a shipfitter named William H. (Bill) Irby at a company sponsored dance, and they married November 8, 1943. In 1950 they moved with four children to Yorktown, where Bill began a long career with the National Park Service, and she kept books for several small businesses and individuals.
Rita and Bill were founding members of Saint Joan of Arc Catholic Church in Yorktown. Their growing family were active in Saint Joan's community until Bill's retirement in 1983 when they moved to Hayes, VA. There Rita joined the Church of Saint Therese in Gloucester, VA where she made many new lifelong friends. Rita returned to Saint Joan of Arc in 2005 when she moved back to Yorktown to live with her children and there, enjoyed many new and old friendships.
Rita was preceded in death by her husband of 53 years, Bill Irby, Sr., her sisters, Marion Antinori and Jean Christopher, her son, Joel Thomas Irby, her grandchildren Christopher Thomas Irby, Scott Roach, and Sara Toy, and her great granddaughter Candice Galusky. She is survived by her sisters, Margie Keller of Newport News and Edwina Ozmon of Chesapeake, her brother Ned Manley (Flo) of Camden-on-Gauley,WV, daughters, Jean I. Roach of Gainesville, FL, Nancy James of Yorktown, Mary I. Foley of Hayes, Rita Ann Jones (Robert) of Hampton and Barbara I. Duckett (David) of New Kent; sons, William H. Irby, Jr. (Nan) of Philadelphia, PA, Robert D. Irby (Linda) of Gloucester, Richard G. Irby (Janice) of Yorktown, Michael A. Irby of Yorktown and James F. Irby (Kathy) of Toano, 27 grandchildren, 34 great grandchildren, and three great great grandchildren.
The family will receive friends on Thursday July 22, from 6 to 8 pm at Amory Funeral Home in Grafton. A Funeral Mass will be said Friday July 23, at 11 am at Saint Joan of Arc Church by Father Michael Joly, and a reception will follow. Interment will be Monday July 26 at 1 pm at Peninsula Memorial Park.
Rita wanted those who attend her funeral to follow COVID protocols.
Rita would prefer that, in lieu of flowers, donations be made to your favorite charities. She always tried to support retired clergy. Arrangements by Amory Funeral Home, Grafton, Va.