Rita C. Wetzel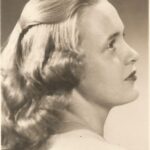 Yorktown, Va. – Rita C. Wetzel was born July 29, 1931, and died December 18, 2020.
She is preceded in death by her husband Leo.
She is survived by her son Mark (Grace) of Yorktown VA., and her daughter Jeanne Daddario of Corvallis, OR., four grandchildren and two great-grandchildren. She is also survived by her sister Patricia Day of La Porte, IN., and by Kerri (Rick) Bonasch of St. Louis, Mo. Arrangements by Amory Funeral Home, Grafton, Va.