Raymond Alvin Glenn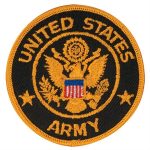 Yorktown, Virginia – Raymond Alvin Glenn, 76, passed away on Saturday, October 5, 2019. Ray was a native and lifelong Yorktown resident. He was a pipe insulator and enjoyed wood working and watching the Washington Redskins. He was a Vietnam Veteran serving in the US Army and received the Army Commendation Medal as well as Bronze Star.
He is survived by his daughter, Susan Ray Glenn and grandchildren, Christian and Skyler Quinley; brothers, Charles Glenn, Jr (Sherry) and Larry G. Laughery Sr. (Janet) and a sister Patsy Maney (Randy).
A memorial service with Military Honors will be held at 1:00 PM on Saturday, October 26, 2019 in Amory Funeral Home Chapel. Interment will be private at a later date.