Raeford Clark Freeman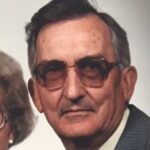 Yorktown, Va. – Raeford Clark Freeman, 88, passed away on Wednesday, October 20, 2021. Raeford was born in North Carolina to the late Sherman and Thelma Freeman. He was a peninsula resident since 1950. He was retired auto body man with 50 years of service. 'Raeford was also an avid fisherman.
He is survived by his loving wife of 68 years Edith Price Freeman and his children, Richard Freeman of Gloucester and Debbie Campbell (Mark) of Yorktown. He is also survived by his grandchildren, Meagan Bibbins (Tommy), Katie Garrett (Hunter), Rebecca Freeman and Blake Freeman and 4 great grandsons, Trevor, Tyler, Trent and Luke.
A funeral service will be held at 2:00 PM on Monday, October 25, 2021 in Amory Funeral Home Chapel with interment to follow in Parklawn Memorial Park. The family will receive friends 1 hour prior to the service.