Pearl Ehrets Sawyer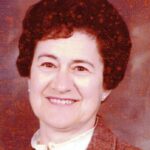 Pearl Ehrets Sawyer, 100, of Yorktown, VA passed away on August 19, 2021 after a life well lived. Born on June 5, 1921 in Boston, MA, she was the daughter of the late Louis Ehrets and Anna Ehrets. Pearl was predeceased by her husband Lloyd Merrill (Bud) Sawyer of Jonesport, ME who she married in 1944. They moved to York County where Bud had already started his professional career with Newport News Shipbuilding and Dry Dock Co. – a career that spanned fifty-two years.
Pearl is survived by her six children, Merrilyn Dodson (Steve) of Yorktown; Marcia Norman (Barry) of Bath, NC; Cheri Adcock (Elvis) of Williamsburg; Lloyd Merrill (Buddy) Sawyer, Jr., Capt. U.S. Navy Ret. (Beth) of Panama City Beach, FL; Edythe Sawyer of Poquoson; Bruce Sawyer (Eileen) of Amston, CT. She was the grandmother of 15 boys and girls and the great grandmother of 24.
Active in the lives of their children growing up, Pearl and her husband were just as active in the lives of their children's friends. Whether it was a Brownie troop, or 4-H, a Boy Scout troop, or sports (Little League baseball and wrestling), Pearl and Bud were both involved. If you were a Boy Scout in York County at the time and never had the opportunity to pitch a tent on the Sawyer place down in Dare, on Patrick's Creek – you really missed it.
On June 5th, surrounded by family, Pearl celebrated her 100th birthday.
Pearl's service will be held on Saturday August 28, 2021 at 2:00 p.m. at Providence United Methodist Church in York County, a church she was very active in. The service will be conducted by Providence's Rev. Lisa Blackmonson. Pearl's interment will be in the church's cemetery, immediately following the service. A reception will be held in the church's fellowship hall after a brief graveside ceremony.
The family would like to thank the following Virginia Health Services' staff for the care and compassion for they gave to their mother when she was a resident at the VHS assisted living facility The Hamilton at York – they are Mary Short, Michelle Matlock, and Ora Williams. We would also like to thank Victoria Thorne, Marguerita Wimbely, and Juliette Ingram of VHS' Hospice unit for the exceptional care they provided Mom with over the last six months.
In lieu of flowers, donations may be made to Providence United Methodist Church, 113 Old Dare Road, Yorktown, VA 23692.
Arrangements by Amory Funeral Home, Grafton.