Pauline J. Riley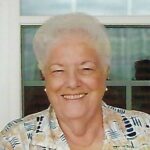 Pauline J. Riley of Yorktown went peacefully to her heavenly home on Saturday, July 4, 2020. She was born in Spiro, OK on December 21, 1930 to Clarence Gee and Mae Hendrix Gee. Her family moved to California where she met her first husband Gene B. Kelso in Turlock, CA. I was told that they had an up and down dating relationship as he would carry her picture in the back seat of his car so if they got into a fight he could hand it back to her, but love prevailed and they were married in December of 1950. He enlisted in the Army in January of 1951. Upon completion of basic training he was sent to Japan in June and then on to Korea where he was killed in action in August of 1951. His daughter Paula was born on December 7, 1951 with bright red hair just like her daddy's. Pauline later remarried Robert L. Riley who was in the Air Force and they relocated to Hampton, VA where she remained.
Pauline worked for many years at Sears Roebuck in Newport News and in Cupertino, CA after she and her daughter moved back to California in 1970. She continued to live in California until 1980 when she moved back to Hampton, Virginia to be close to her daughter.
She was preceded in death by her first husband Gene; mother Mae; father Clarence; stepmother Faith; second husband Bob; her brother Dean; a step brother and step sister and numerous dear friends. I am sure she is busy catching up with everyone now that she has 2020 vision and is able to move without pain, what a day of rejoicing! I relate yesterday to a rocket heading into the vast realms of space releasing the body that generated the power to leave this earth's gravitational pull so that the capsule could be free to go to heaven. While that may not be true for everyone, it was true for her because she had given her soul to the Lord and he had a place waiting for her.
Left to cherish her memories are her daughter Paula and husband Garrett of Yorktown; a grandson Josh and his wife Jen of California; a granddaughter Faith and her husband DJ of Yorktown; 4 great grandchildren, Justus, Elsa from California and Dyllon and Joseph in Virginia. She also leaves a very dear friend, her care taker and roommate for 20+ years, Violet Nolen, who made sure lunch was ready right after the Price is Right and that there were frozen grapes in the freezer and cookies and sweets galore.
A memorial service will be held at 2:30 pm on Sunday, July 12, in the chapel of Amory Funeral Home, Grafton.
In lieu of flowers, please make memorial donations to the American Cancer Society, 11835 Canon Blvd, Suite A-102, Newport News, VA 23606; Wounded Warrior Project, P.O. Box 758516, Topeka, Kansas, 66675-8516; Bethel Baptist Church, 1004 Yorktown Road, Yorktown, VA 23692 or to a favorite charity of your choice.