Paul Crockett, Jr.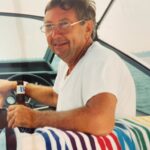 Yorktown, Va. – Paul Crockett, Jr. passed away August 24, 2022 peacefully in his home. He was surrounded by his beloved family as he rested peacefully in his favorite room. He was an avid student and somewhat expert on the history of WW11 guns and swords. This special room was filled with his love for WW11 memorabilia, echoes of thousands of Redskins and every other football game available, and most importantly conversations and the love of his children and friends. He enjoyed spending time on the water and always welcomed friends and family to jump on board. We will all remember his talent of storytelling, his quick wit, and great sense of humor. He was quite the character as he laughed, joked, and heavily debated his way through life.
Paul was born on September 25, 1937 in Yorktown, Va. where he happily lived his entire life. After graduating from York High School, he spent 18 years at Amoco Refinery. The call to the family hotel business brought him to his entrepreneurial passion, working closely with his parents and brother. The Duke of York was constructed in 1965 and family run until 2021. Paul successfully ran the property by himself for 20 years. You could find him bantering with friends and guests in the lobby or restaurant, patrolling the parking lot to protect the guests, or frequently offering unsolicited advice to his son on how to run the restaurant more to his liking. Many of his children and grandchildren had the opportunity to work at the Duke of York and to see firsthand his passion for the business and that dimpled unforgettable mischievous smile. In addition to his love for Kentucky Gentleman with ginger ale, he was a true character and a true Virginia Gentleman.
Paul served his community through his appointment to the Yorktown Board of trustees. He was appointed to this position in the early 80s and continued to serve through the 90s. His years with the Trustees were some of his favorites and they were filled proudful moments. On Yorktown Day 1981, he had the opportunity to meet President Reagan and the first lady.
Paul is survived by his loving wife, Becky Crockett and his children Cole Crockett, Joanna Turbeville, Camilla and Kevin Walck, and Vanessa and Richard Reed. He has 11 grandchildren, 6 great-grandchildren, in addition to 2 stepdaughters and their family.
Paul was preceded in death by his mother and father, Paul Sr. and Camilla Crockett, and his brother R. Nelson Crockett.
A private service will be held on September 25, 2022 at Grace Episcopal Cemetery. This would have been his 85th birthday. Paul will be laid to rest beside his parents and brother, appropriately in the very historic Yorktown church. We will miss him dearly and remember him always.