Patricia (Trish) Marshall Hamilton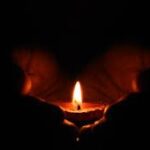 In the early morning hours of Monday August 29, 2022, my sweet mother Patricia (Trish) Marshall Hamilton, slipped away from the boundaries of this earthly life and was welcomed into the arms of Jesus. She has been released from her physical pain and once again her smile is bright and engaging and her keen mind is crystal clear.
Trish was born in Schenectady, NY April 1, 1933, to Charles Thomas and Elizabeth Hollister Marshall. She had two brothers, Philips and Robert. They moved to Tucson, AZ in 1947 for a healthier climate as her father contracted emphysema during WW II.
She is predeceased by her parents, her brother Robert, son John Charles, grandson Stephen Nicholas and great grandson Richard. Her husband of 52 years, Richard (Dick) Bradford Hamilton, passed away in June 2015. She is survived by Philips (Phil) Marshall and his wife Emily, her daughter Linda Holbrook Rufi her husband Tony, her son Bruce Paul his wife Sheryl, 7 grandchildren, 17 great- grandchildren and 4 great-great grandchildren. And many nieces and nephews plus her beloved cousins who will all miss her.
My stepfather was somewhat of a nomad and my mother became very good at packing up and joining in his adventures. She loved Montana and Wyoming for thrilling canoe trips and hiking, New Mexico enchanted her brave spirit with amazing sunsets and the soothing scents of Pinyon Pines. I think she loved Maine the best. Her flower garden was spectacular, and it was fun to pick wild blueberries that grew around the front of their home on Falmouth Foreside.
After my stepfather passed away in 2015, my mother came to live with our family in Poquoson. Her youngest great granddaughter Abigail took to her Gigi like popcorn to butter. I loved listening to the two of them play school. Abigail was a fairly strict teacher and Gigi a willing student. They had much fun together and I will treasure those sweet memories.
Three years ago we began a new and strange adventure as we learned to navigate the long goodbye of dementia. My mother's Christian faith provided her with the tools to discover peace in this sad journey. My daughter Kristine arrived from Texas to help me with the daily challenges and added a deep layer of comfort and strength for both my mother and me.
We will have a celebration of my mother's life and faith at Resurrection Lutheran Church 765 J Clyde Morris Newport News, VA 23601 on Friday September 30, 2022, at 7:00 pm
My mother will be buried in Tucson, Arizona November 12, 2022.