Patricia Teague Sparrer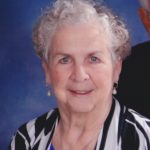 Seaford, Va. – Patricia Teague Sparrer passed away on Thursday October 31st 2019, she was 77. Pat was a devoted and loving daughter, wife, mom, Nana, sister, aunt and friend. She leaves behind a legacy of love, humor compassion and strength. She was a life long member of the Seaford and Yorktown communities and was filled with a love for others.
She was preceded in death by her parents John and Edna Teague. She is survived by her loving husband of 57 years Raymond Sparrer her son Mike, daughter in law Holly and two grandkids, Allison and Tyler. Also, brothers and sister; Johnny Teague (wife Kathy), Danny Teague (wife Cathy) and Cindy Burgett (husband Scott); and sister in-law Edna DeChristopher (husband Al). She also is survived by 6 nieces and nephews who were the apple of her eye; Jason and Adam Teague, Matt, Jake and Sarah Burgett and Katie DeChristopher.
Pat worked at BASF for decades until she retired in the 90s. She then accepted the role of church secretary at Zion United Methodist.
Pat's grandkids were her world. She loved to spend time with them and cherished the moments they had together. Allison and Tyler meant the world to her and she loved them dearly.
Nothing was more important to Pat than family. She cherished the times when we would all get together for holidays, birthdays or just for a quick weekend. She loved to laugh and would often laugh at the most inappropriate times. You didn't want to get hurt around her – because she would surely give you a chuckle.
She was so thankful for her church family. Her Sunday school class meant the world to her as did the bazaar ladies. She participated as she was able and was so thankful for being part of both
She had a very special group of friends that she cherished so much. These ladies would take her out and watch out for her all the time. They would include her and laugh with her. She (and we) appreciate you all so much!
Mom was at home at the beach. She loved to be by the ocean and really relaxed there. She was a fan of late afternoon on the beach and would sit until we told her to come in. She enjoyed the time there so much.
Thank you for your calls and attention during this time. We are heartbroken but will have a laugh as I'm sure mom would want us to.
The family will receive friends at 1:30 on Sunday in the afternoon at Zion United Methodist Church in Seaford Virginia. Her service will be at 3:00. A reception will follow in the social hall. Memorials may be made Zion United Methodist Church Building Fund or to the Church Cemetery Fund, P.O. Box 240, Seaford, Va. 23692. Arrangements by Amory Funeral Home, Grafton, Va.