Patricia Stephens Queen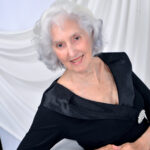 Yorktown, Va. – Patricia Stephens Queen, 81, passed away on Tuesday, February 2, 2021.
Patricia was a native of Newport News and a Yorktown resident since 1955. She graduated from Warwick High School in 1957. She retired from Colonial Williamsburg as an historical interpreter for over 25 years. She was a member of Waters Edge Church and member of the local chapter of Red Hatters. In her free time she enjoyed playing the organ and piano and painting.
She was preceded in death by her husband of 52 years David Lee Queen and her son-in-law Bernhard Kaita. She is survived by her daughters Linda Ann Queen and Deborah Queen Kaita; her brother Sam Lock Stephens, Jr. (Mary) and her granddaughter Rachel Elizabeth Meyer and 2 great grandchildren, Oliver Bernard Bauer and Elizabeth Rose Bauer.
A funeral service will be held on Friday, February 5, 2021 at 10:00 AM in Amory Funeral Home Chapel. The family will receive friends one hour prior to the service.