Patricia Ruth Slaney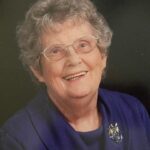 Newport News, Va. – Patricia Ruth Slaney, 90, passed away on Wednesday May 13, 2020. Patricia was born in Wisconsin but raised in St Joe, Michigan and peninsula resident since 1967. She attended Healing Waters Worship Center. Patricia was a loving mother, grandmother and great grandmother who enjoyed spending time with her family and scrape booking and cross word puzzles.
She was preceded in death by her husband of 51 years Frank William Slaney, Jr. and a grandson Dylan Hobbs. She is survived by her children, Kimberly E. Finley, Kenneth E. Slaney and Janey Meadows; 7 grandchildren, Geoffrey, Justin, Lynda, Kenneth, Jr. Alan, Brandon and Savanna as well as 3 great grandchildren, Kalie, Chase and Olivia.
A graveside service will be held at 11:00 AM on Thursday, June 18, 2020 in Arlington National Cemetery. Patricia will be laid to rest next to her husband in Arlington National Cemetery.