Patricia "Penny" S. Martin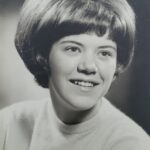 Yorktown, Va. – Patricia "Penny" S. Martin, 74, passed away on Wednesday, May 5, 2021. Penny was born in South Bend, Indiana, and Peninsula resident since 1975. She was a retired school teacher with twenty years at York County Public Schools and taught at both York and Grafton Middle Schools. After her retirement, she taught for another 10 years in Hampton Public Schools at Bethel High School.
Penny is survived by her husband of 34 years, Floyd C. Martin, her children Greyson and his wife Casey, and Jessica and her husband Jacob; and 5 grandchildren, Emma, Caleb, Lincoln, Addison, and Maia. She is also survived by her two brothers, John and Steve Nice.
A memorial service will be held at 10:00 AM, Monday, May 10, 2021, in Amory Funeral Home Chapel. Memorials may be made with Arrangements by Amory Funeral Home, Grafton, Va.