Patricia M. Higgins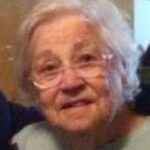 Henrico, Va. – Patricia Moriarty Higgins, 91, passed away on Thursday, November 11, 2021.
Patricia was a native of North Andover, Massachusetts and former resident of Hampton before moving to Henrico. She attended St Joseph Catholic Church and enjoyed sewing and spending time with family.
She was preceded in death by her children Patsy Higgins, Guy Higgins, II and Tina H. Kirby and is survived by her children, Gail Moore (Leo), Mary Coyle (Floyd), Marion Smith (Adrain) and Gary C. Higgins; 12 grandchildren and 6 great grandchildren.
A memorial service will be held on Friday, November 19, 2021 at 11:00 AM in Amory Funeral Home Chapel. Burial will follow in Parklawn Memorial Park.