Patricia Jenkins Greene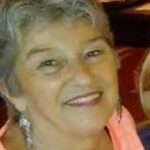 Patricia, 63, of Gloucester, went to be with the Lord on April 12, 2020 at her home after a hard-fought battle with cancer.
She will be remembered as a wonderful woman that radiated joy and dependability. Her presence brought laughter and easy conversation that will be greatly missed. She loved to dance and spend time outside with her loved ones, especially her grandchildren. She was a member of Union Baptist Church in Guinea, VA.
She is survived by her two daughters – Christina Johnson (Jamie) and Tina Jackson (Darren), two sons – Alfred Greene Jr. and Van Greene, and stepdaughter – Melanee Thompson. Her grandchildren include – Dustin, Braxton, Abigail, Maddie, Serena, Brantley, Keon, Maceo, Sinead, Zach, and Trebor. Brothers include – Harry Jenkins (Diane), Michael Jenkins (Lisa), Kenneth Green, and James Green. She leaves behind multiple friends & family.
In lieu of flowers, the family would like donations to be made to Union Baptist Church at www.unionbaptistchurch.net
A Celebration of Life service will be held at a later date due to the current health crisis.