Patricia Frances Borowick Mooney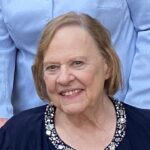 Patricia Frances Borowick Mooney, 83, passed away on Saturday, July 3, 2021. She was born in Worcester, Massachusetts to the late Dolpold and Margaret Borowick.
Pat was a retired Registered Nurse and a member of Our Lady of Mount Carmel Catholic Church.
She married the love of her life in 1959 and began a 30-year adventure in the USAF. Pat kept busy during those years supporting Thom, raising 3 children, moving 26 times, before building their forever home in Kiln Creek. She worked in a variety of nursing settings during her career including as an employee health nurse at Hampton General Hospital and at the Devonshire Living Facility. She loved to host family holiday dinners and cheer for the Boston Red Sox and New England Patriots. She passed away peacefully in her home surrounded by her loving family. She was preceded in death by her parents and a sister, Carol Bizewski.
She is survived by her husband, Col. USAF (ret) Thomas Mooney; daughter, Dr. Kathleen Mooney Newmeyer, and her husband, Dr. Kevin Newmeyer; sons Thomas Mooney and his wife Andrea Heil, and Brian Mooney and his wife, Donna Mooney; and eight grandchildren: Ryan Newmeyer, Sean Newmeyer, Kate Newmeyer Cooper and husband Sean Cooper, Tyler Mooney and wife Katie Mooney, Shannon Mooney, Grant Mooney, Alexandra Mooney and Gabriella Mooney.
A Funeral Mass will be held at 11:00 on Friday, July 9, 2021, in Our Lady of Mount Carmel Catholic Church in Newport News. The family will be receiving visitors at the church beginning at 10:15. Burial will be a later date in Arlington National Cemetery.
In lieu of flowers, the family requests donations be made to the Riverside Foundation or a charity of your choice.