Ola Mae Wenzel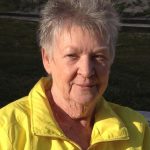 Mrs. Ola Mae Wenzel went to be with the Lord Jesus on December 1, 2018. She was born on February 8, 1940 in Chowan, North Carolina and was a lifelong resident of Seaford,VA, the daughter of Emmett L. Byrum and Berda Mae Ashley. More than anything, she loved being a mother, sister, grandmother, and great-grandmother to her family. She was affectionately known by many as "Mae Mae" and "Meema". She enjoyed traveling and antiquing, but most of all being with and caring for others. She was loved by and will be missed by so many. She never met a stranger.
Mrs. Wenzel was preceded in death by her loving husband, James Joseph Wenzel, as well as her parents, her step-father Allen Hornsby, and an older sister, Elizabeth Baker. Ola Mae is survived by her brothers Emmett Byrum (Judy) of Columbus GA, Joseph Byrum of Hampton, VA, William "WD" Byrum (Ida Mae) of Seaford, VA, Allen Faye Adam, Seaford, VA; her two grateful and loving children, Terry Roberts (Kenneth) of Yorktown, VA and Darrel Wenzel (Stacey) of Yorktown, VA; her precious grandchildren, Dustin Roberts (Tiffany), Adam Roberts (Ashley), Matt Wenzel, Noah Wenzel, Hannah Wenzel, step-grandson Michael Wenzel II, step-granddaughter Amanda Wenzel Nelson and their mother Debbie Williams; and two great-grandchildren, Ezra Roberts and Eva Roberts.
Friends are invited to gather from 12:00 to 1:00 AM on Thursday December 6, 2018 at Seaford Baptist Church, 1311 Seaford Rd, Seaford, VA, where the celebration of life will begin at 1:00 PM. Burial will be in Peninsula Memorial Park.
Local arrangements are by Amory Funeral Home. In lieu of flowers, donations may be made to Peninsula Rescue Mission, 3700 Huntington Ave, Newport News, VA 23607.