Norma Jeanne (Wade) Davis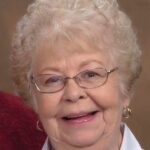 Norma Jeanne (Wade) Davis, age 83, of Dayton, passed away Saturday, August 5, 2023 at Vienna Springs Health Campus.
Norma was born in Ogden, Utah to the late William F. Wade & Irene Countryman Wade. Jeanne graduated from Ogden High School in 1958 and Westminster College in 1962. She married Wilmer L. Davis on April 1, 1966 in Sacramento, CA. She was preceded in death by her parents; and her grandson, Brayden Scott Davis. Jeanne is survived by her loving husband, Wil L.; sons & daughters-in-law, Scott & Laurel, and B. Eric & Jennifer; grandchildren, McKenna & Colin; sister, Pamela Papazian; and brother, William Wade.
Funeral service 1:30 PM Saturday, August 12, 2023 at Sulphur Grove United Methodist Church, Huber Heights, OH. The family will receive friends on Saturday from 12:30 PM until service time at the church. Graveside service will be held on Friday, August 18, 2023 at 1:00 PM in Peninsula Memorial Park in Newport News, VA.
In lieu of flowers, memorial contributions may be made to Sulphur Grove United Methodist Church in Jeanne's memory. Funeral arrangements Marker & Heller Funeral Home, Huber Heights Chapel.