Newell Hause (Bubbs) Blayton, Jr.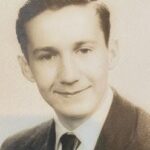 Mr. Newell Hause Blayton Jr. (Bubbs), born July 23, 1939, in Newport News, VA passed away peacefully on September 21, 2021 after a hard-fought battle with cancer for two plus years with his family surrounding him.
Newell was a member of the Newport News High School class of 1957. Newell completed an apprenticeship at NASA as an engineer. Newell then learned to weld at a shipyard and worked on submarines. Newell then applied his knowledge to building race cars with his brother Maurice and won the championship in the late model division in 1968 at Langley Speedway. After racing, he settled into the automotive industry, managing parts departments for Ford dealerships in VA and GA. After several years in the parts business, Newell decided to open a distribution company to serve the dealerships himself. Newell ran that for several years, before selling it, and going to work as a contractor/consultant for another business to help build its presence in the Ford market. Newell successfully did that for 20 years before retiring in 2018 to enjoy working on his own projects at home, traveling the world and spending time with his beloved wife Margaret and the rest of the family.
Newell was adored by his family and friends. Newell was always willing to help anyone in need. He was involved in all of his children's activities as they grew up, coaching baseball, hockey, basketball and helped manage and grow hockey programs in Atlanta, GA through the Georgia Amateur Hockey Association.
Newell and Margaret were the ultimate grandparents, rarely missing any event involving their eight grandchildren. Newell built go-carts, from the ground up, for all of the grandchildren, as he did for his own children. The grandchildren enjoyed go-cart racing, swimming in the pool and running around the property. Newell and Margaret took the grandchildren on many vacations throughout the years, enjoying spending quality time with each of them.
Newell was preceded in death by his father Newell H Blayton Sr., his mother Ida Coleman Blayton, brothers Gene, David and William (Billy) Blayton. Newell is survived by his wife Margaret Cowan Blayton, of 62 years, his sisters Alice Amory and Carolee Woolard (Wayne), brothers Maurice (Sandra) and Wayne and many nephews and nieces.
Newell is also survived by his daughters Laura Johnson (Scott), Lisa Faucher and sons Newell H Blayton III (Kelly) and Gregory H Blayton (Veronica) and grandchildren, Kaitlynne, Hailee, PJ, Abby, Avery, Sam, Hunter, Sydney and great-grandchildren, Wyatt and Julia.
For anyone who knew him, they say it was a pleasure to know such an honorable, intelligent and genuine man.
We love you Dad, Papa, and Friend!
The family would also like to thank Dr. Adam Leaderman, Dr. Pradeep Jolly, Dr. Edmund Simon and all those of the medical staff that helped him with this journey. Our family wants to especially thank Laura Johnson who managed his care throughout. And all friends and neighbors we have not mentioned in this, we thank you. God bless you all for helping us to reach his journey's end!
Visitation will be held Saturday September 25th from 2-5 PM at Darby Funeral Home in Canton, GA. Funeral services will be held at Darby Funeral Home as well at 1PM on Sunday September 26th with burial following at the Macedonia Memorial Park.
Reception will follow at Las Palmas restaurant in Macedonia, GA.