Nell (Compton) Newberry Matney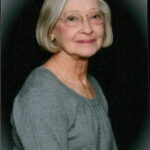 NELL (COMPTON) NEWBERRY MATNEY, 86 years of age of Yorktown, VA, passed away Wednesday, April 28, 2021 at the York Convalescent Center.
Born in Buchanan County she was the daughter of the late Worley and Gusta Clevinger Compton. She was a longtime resident of Buchanan County having spent the last eight years in Yorktown and was of the Baptist Faith. She was a loving wife, mother, grandmother, great grandmother, homemaker, and seamstress.
In addition to her parents, she was preceded in death by her first husband Norman Newberry; son: Marty Newberry; daughter: Rhonda Newberry; 1-sister: Edith Looney.
Those left to cherish her memory include her husband Harold Matney, Yorktown, VA; 2-step children: Denver Matney and Laura Matney of Northern, VA; 2-grandchildren: William Kenneth (Hannah) Newberry, Denver, CO, Ashley Season Newberry, Brooklyn, NY; 3-great-grandchildren: Ada, Emma and Ruby Newberry; 1-sister: Paulina McClanahan, Abingdon, VA; 1-Brother: Roby Compton, Tazwell, VA; 1-daughter-in-law: Connie (Rick) Fuller, Vansant, VA; 2-nieces: Teresa Johnson, Keen Mountain, VA, Deborah Ratliff, Fredericksburg, VA.
Graveside Services for NELL (COMPTON) NEWBERRRY MATNEY will be conducted Monday, May 3, 2021 at 11:00 A.M. at Mountain Valley Memorial Park, Big Rock, VA with Mike Rife officiating.
Active Pallbearers will be family and friends.
We will be taking proactive measures to help prevent the spread of any potential illness. In an effort to minimize direct contact, we ask that you consider avoiding shaking hands or physical contact with the members of the family or other guests. Direct Eye Contact, Loving Words, and a Warm Smile can be as meaningful to the families as a traditional handshake or hug, especially during these difficult times. Face masks or coverings are required and practicing social distancing.