Nedra Mae Hedgepeth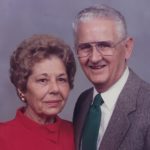 Yorktown, Va. – Nedra Mae Hedgepeth, 91, passed away on Saturday, May 25, 2019. Nedra was a native of Roanoke County, VA and a Yorktown resident since 1947. She was a former employee of the Newport News Shipbuilding and was a founder and active member of Seaford Christian Church.
She was preceded in death by her husband of 69 years Vance W. Hedgepeth and sister Connie Abell and is survived by her daughter Rhonda Faye Upchurch (Edward) of Yorktown and grandchildren, Stefanie Upchurch and Michael Upchurch.
A funeral service will be held at 11:00 AM on Friday, May 31, 2019 in the chapel of Amory Funeral Home, Grafton. Interment will follow in Parklawn Memorial Park. The family will receive friends on Thursday from 5:00 to 7:00 PM in Amory Funeral Home. Memorial may be made to the Seaford Christian Church Building Fund, Seaford, Va.