Nancy Nixon Burns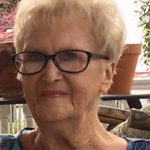 Hampton, Va. – Nancy Elizabeth Nixon Burns, age 86, of Hampton, Virginia, went home to be with her Lord on November 25, 2019.
Nancy, a long-time resident of the Virginia Peninsula, was a beloved wife of 55 years, aunt, sister, mother, grandmother, and great-grandmother. She loved and cherished her entire family.
Nancy was a spirited bingo extraordinaire, who fearlessly worked hard and lived a fruitful life. She enjoyed hockey and participated in roller skating competitions in her younger years. She worked at companies such as Coats & Clark Inc., Maida Development Co, and Navidyne Corporation, yet out of all of the professions she held over the years, she enjoyed working with the children as School Cafeteria Worker with York County Public Schools.
Nancy was preceded in death by her mother, Nannie Lintz Nixon, her father, Barney Jessie Nixon Jr., and her two brothers Barney (Buddy) Nixon and William Nixon. She is survived by her husband Bobby G. Burns; three sisters, Shirley Wilson, Francie Jean Wright, and Nan Patterson; her two children and their spouses, Ronnie "Dale" Martin Sr., Bobbie G. Burns Brown, and Alan Brown. Additionally, she is survived by five grandchildren and their spouses' Diana Martin (Jason Witcher), Ronald Dale Martin Jr. (Melissa Kennedy Martin), John Martin (Meredith Martin), Charles "Drew" Martin (Sharon Martin), Mandolyn "Mandy" Brown and six great-grandchildren, Olivia, Violet, Evangeline, Veronica, Abigail, Claire, several nieces and nephews along with countless friends and additional extended family.
The family will receive friends and family on November 30, 2019, beginning at 11:00 AM. A celebration of life service will follow at 12:00 PM at Amory Funeral Home, 410 Grafton Dr, Yorktown, VA 23692. Immediately following, she will be laid to rest with her mother at Parklawn Memorial Park.