Nancy Joyce Johnson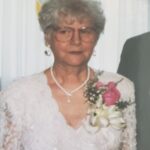 Nancy Turner Johnson, last surviving child of Frank and Bertha (Lee) Turner, peacefully passed; away on October 26th at home in Yorktown, VA. She was born in Ohiopyle, PA on December 16, 1930 and was valedictorian of the last class to graduate from Ohiopyle High School. She was married to the late Clark T. Johnson Jr. for sixty-three years and accompanied him to various military installations as an Army wife. She retired from Mary Immaculate Hospital as an LPN. In addition to her parents and husband, she was predeceased by a son, Phillip Johnson, brothers Warren, Harold, Kenneth, and David Turner; sisters Mary Dean, Verna Wise, Mabel Ridley, Ruth Cutright and infants Dora and Leah. She is survived by her children; Joyce and Ernie Chapman, Linda and Larry Glass, Marianne Rivera Johnson, Ted and Andrea Johnson and Kathy and Anthony Deanda, 10 grandchildren, 14 greats and 3 great-greats.
The family will receive friends on Saturday, October 29, 2022 in Amory Funeral Home in Grafton, VA from 4-6pm.
Funeral services will be conducted by Crawford Funeral Home in Hopwood, PA. Viewing on Friday, November 4th from 2-4PM and 6-8PM, Funeral services will be Saturday, November 5th at 12pm with internment following the service at Bryner Ridge Cemetery.