Nancy Essick Head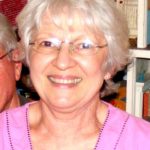 Nancy Essick Head, 78, passed away peacefully on March 12, 2019, surrounded by her loving family. A Memorial Service will be held March 30, 2019 at 11:00 am at St. Mark's Lutheran Church, 118 Old York-Hampton Highway, Yorktown. Pastor Joel Neubauer will preside. Following the service, there will be a light lunch and visitation at the church.
Nancy was born on October 23, 1940 in Danville, PA to DeWitt Miller Essick and Clara Frances Shaw Essick. She grew up in Millersville, Pennsylvania and attended JP McCaskey High School where she was active in an array of activities ranging from color guard to editor of the school paper. She went on to attend Indiana State Teachers College, graduating in 1962.
After college, Nancy moved to Baltimore, MD where she taught fifth grade. There she met and married Lieutenant Jorj Clifford Head. Their life together was an adventure from the start. Nancy enjoyed being an Army wife, treasuring the chance to live in and travel to many states and countries. Eventually Nancy and Jorj settled in Yorktown, where they lived for more than forty-five years. Never having met a stranger, Nancy had a large circle of friends and stayed very busy. She was active in the PTA, served as room-parent year after year, and was even instrumental in making soccer a sport in York County high schools. She served as the Director of Christian Education at St. Mark's Lutheran Church, sang in the church choir, and was involved in Church Women United. Nancy was also a loving and fun mother who hosted the best backyard birthday parties, judged mud-pie competitions, and encouraged other shenanigans in the name of making memories.
As her children grew, Nancy, took on new projects. Combining her interest in education with her passion for helping others, she began working for World Book Encyclopedia, serving schools and communities throughout Tidewater. Around the same time, Nancy became interested in wellness and was an early adopter of green living. Before it was common, she traveled to recycling centers and focused on natural foods, medicines, and products. She began selling herbal supplements and enjoyed discussing health with anyone who would listen. Nancy was a go-to, informal health consultant for all her friends and family members.
In the early 2000s, Nancy found a new passion working alongside her golden retriever, Bailey. Nancy and her therapy dog Bailey (and later Mandy) worked with elementary school students, cancer patients, battered women, wounded war veterans, prisoners, and juvenile offenders. Nancy believed that every person deserves dignity and has the ability to change. Eventually, she felt called to work mainly with incarcerated adults and youth. Bailey and Mandy offered inmates companionship, a sense of purpose, and most importantly, unconditional love. Nancy offered her non-judgmental nature and an ear, although she always said her dogs did all the work. The relationships she made were lasting and rewarding, and it is hard to know who benefited the most.
Nancy was preceded in death by her parents, DeWitt and Clara Essick, her brother, William Essick, her sister-in-law, Kaye Essick, and her granddaughter, Savannah Head.
She is survived by her beloved husband of 54 years, Jorj C. Head; son Jorj R. Head (wife Christina) Seaford, Virgina; daughters Angie Head Gloucester, VA and Suzie Smartt (husband Chris) Austin, Texas; grandchildren McKenna and Hayden Head, Seaford, VA; Clara, Nathan, and Evie Smartt, Austin, TX. She is also survived by her brother Ron Essick, Pinehurst, NC and her sister-in-law Keiko Essick of Lancaster, PA. nieces and nephews and their families, Katherine Essick (son William), John Essick (wife Iris), Shannon Salvador (husband Pancho, children Lilliana, Tyler, and Ruby), Chris Essick (wife Ashley, children Sadie, Claire, and Audrey).
The family thanks Nancy's wonderful friends for their prayers, love, and companionship throughout her illness. The family is also grateful for the medical professionals for the outstanding care she received. Memories, stories, or comments about Nancy may be left at nancy-essick-head.forevermissed.com . In lieu of flowers, donations to the Savannah Head Memorial Grant would be welcome. Contributions by check can be made payable to YFPE with Savannah Head Memorial in the subject line. Mail to YFPE inc., PO Box 1771, Yorktown, VA 23692.